2020年04月20日
Coronavirus Telephone Support Numbers in Japana
Information and friends
When you get in trouble in a foreign country, one of the most powerful tools that could save you is the right information and friends. Search for them! Also it's very important to ask for help. Rise your voice!  There are always someone who are willing to help you. Never give up.
If you feel concerned about COVID-19
Tokyo Novel Coronavirus Call Center
0570-550571
(Support in English, Chinese, Korean and Japanese)
9:00 am – 9:00 pm (including weekends and holidays)
Tokyo Coronavirus Support Center for Foreign Residents
Tokyo opened Telephone support center for the foreigners who are suffering from financial and other situation due to coronavirus.   
0120-296-004
10:00AM to 5:00PM (Not on Saturdays, Sundays, Holidays)
In Easy Japanese, English, Chinese, Korean, Vietnamese, Nepal, Indonesian, Tagalog, Thai, Portuguese, Spanish, French, Cambodian, Myanmar
https://www.bousai.metro.tokyo.lg.jp/…/saigai/…/1007709.html
Japan Coronavirus Information Site List by Prefecture (Phone Consultations Available)
Friday, April 3, 2020
There are a lot of people right now struggling with where to find information about the coronavirus, who to call, and figuring out what hospitals they can go to that will accommodate languages other than Japanese. We've compiled a little something to help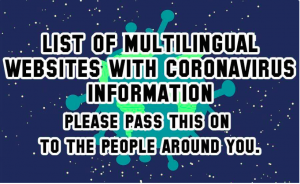 https://izanau.com/article/view/coronavirus-information-japan